---
As Sean Connery turns 90, Nicholas Shakespeare goes to Jamaica in search of Ian Fleming

Just before the 25th Bond movie unveiled its stars, though not yet its name, at Ian Fleming's house in Jamaica, the Kingston Daily Gleaner, which Fleming called 'my favourite newspaper above all others in the world', published this letter from me:
'In one of his autobiographies, my grandfather, the English writer S P B Mais, wrote:
' "In the late-18th or early-19th century, my great-great-grandfather, who was a West Indian sugar merchant in Bristol, eloped with his children's governess to Guernsey and, having started an illegitimate family there, deserted her and went off to Jamaica to raise a coloured family there. The name of Mais is well known in the West Indies."
'I am shortly to make my first visit to Jamaica, and would welcome any chance to learn more about my kinsmen, who, my grandfather writes, "were much finer physically than I was".'
On the eve of my departure, I had received not one reply. I had, though, discovered a rather extraordinary link between my grandfather and Goldeneye, Fleming's home on the north coast where he wrote all 14 Bond books.
'Dr Jamaica' was a rest cure for Bond, as it was for his creator, after the grey porridge of the English winter. You can picture Fleming arriving each January, jet-lagged, into its bright warm embrace, hibiscus, white-flecked sea of variegated marine blues, and the sway of wide hips.
'One of the most satisfying views in Jamaica can be had walking behind a Jamaican girl,' wrote Fleming's friend Morris Cargill, a columnist on the Gleaner.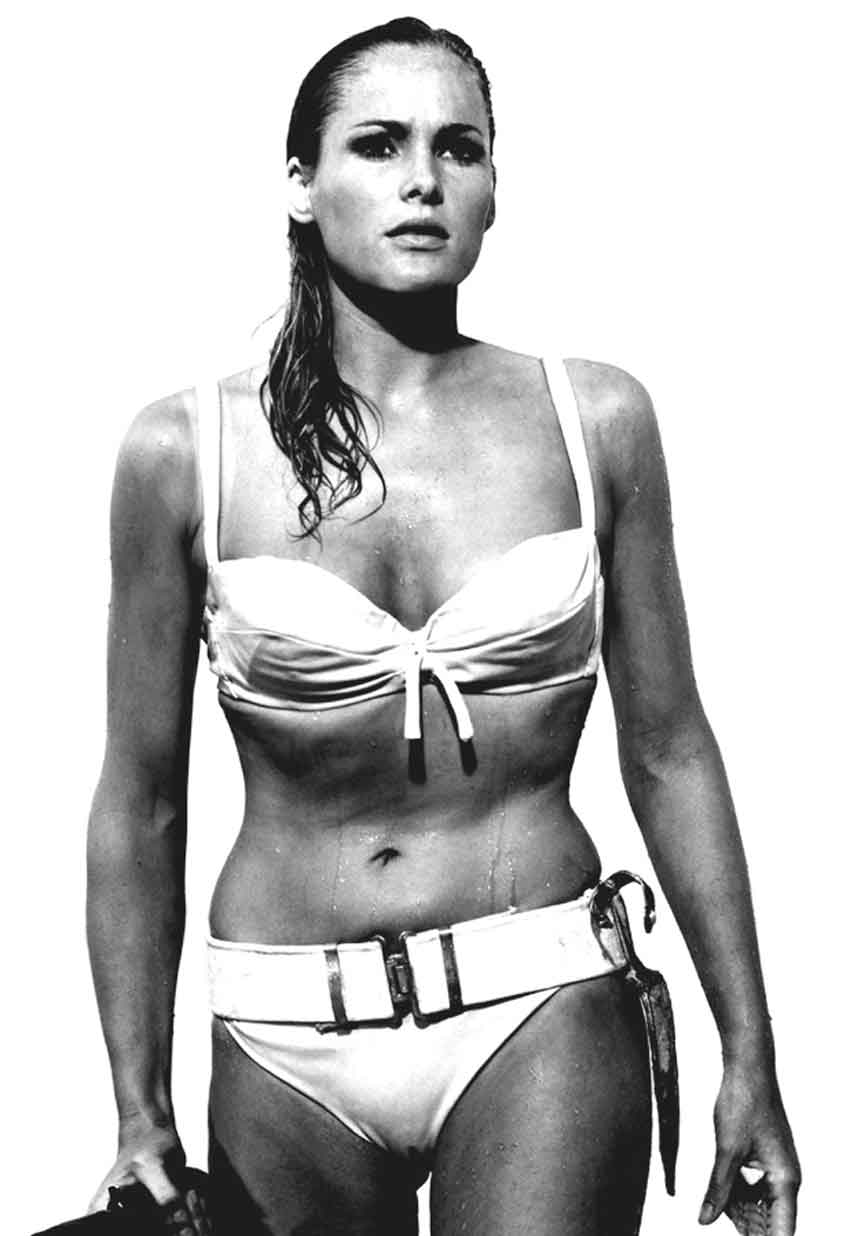 Within moments of landing, even the most reserved visitor feels caressed, liberated. And then there's the Jamaican smile. At the Sandals resort on Montego Bay, the staff are hired for smiles that make their recipient feel ten times taller.
Grenville, my 'personal valet', leads me to my spacious room overlooking the Caribbean.
'Hey, Shakespeare, didn't you write all those novels?'
'As a matter of fact,' fully returning Grenville's grin, 'I did.'
Cargill, in his 1964 obituary of Fleming, reckoned that 'he did more than any other single person to give our country extensive and favourable publicity abroad'.
A close second would be Butch Stewart, owner of the Gleaner, and also of the Sandals chain, which employs 15,000 Jamaicans in its nine resorts on the island. There are 23 Sandalses throughout the Caribbean. Sandals Montego Bay is, according to a plaque in the foyer, 'where it all began. Est. 1981'.
That night, Butch joins our party of five for dinner on the beach. Black shirt, cropped, curly, fair hair, 77 years old, looking boyishly younger.
Already, I'm curious to learn the secret of his all-inclusive, couples-only formula. He is reluctant to give his models, but Club Med is clearly one. You pay nothing once you have paid up-front, and you come as a couple – so no laddish behaviour, or people going off with others. And there are no children. Some clients have been 100 times and, when their spouses die, Butch lets them come back alone, so they can walk around a familiar circuit, posing no risk. 'A humanitarian gesture,' he says.
At this, Butch's first Sandals, everyone walks about with helpless grins on their faces, as if part of a cult – the Sandalistas. The men at the bar, who watch Tiger Woods win the Masters over their piña coladas. The newly married couple from Texas, who trip hand in hand along the shoreline, tracked by a photographer. The staff, who wave at the passing planes which roar overhead – an astute piece of PR which seems to work. Most of the passengers being from Sandals, the idea is to wave them off and hope they come back, and so diffuse the actually quite loud noise into a friendly farewell. That a sizeable number do return is thanks in large measure to Butch.
He began in the air-conditioning business, and applied the same simple principle to hotels, about which he knew nothing. 'Make the man or the woman the happiest customer in the world. Take a bit of money and work. Move fast and smart. Exceed expectations.' What he soon discovered: 'Mass follows class.'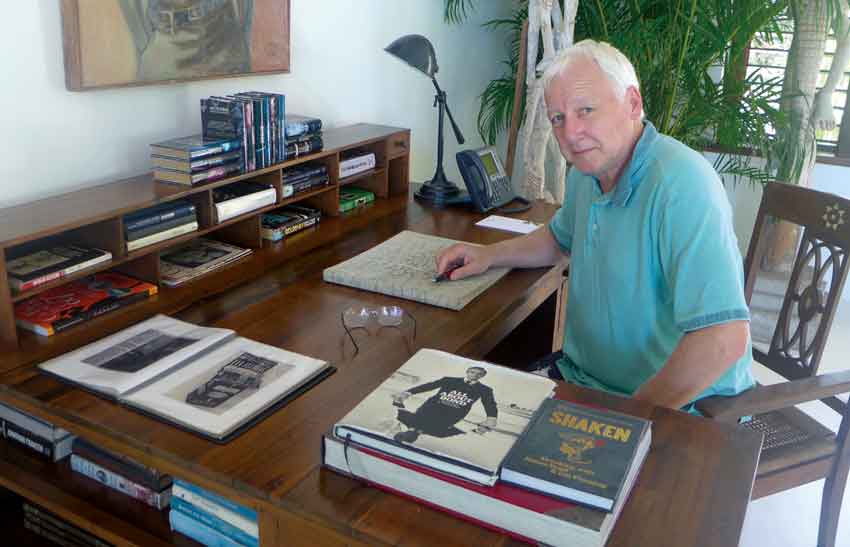 The class was there already: visitors like Fleming, who had bought his stake on the island in 1946, followed hot on his heels by Noël Coward, Errol Flynn, Peter Finch and Sting.
Butch called his concept Sandals following a 'name-punch' – slang for a name competition – with colleagues. He was the only one who didn't like the name – for its connotations of dirty feet – but there was no alternative in the offing, and a week later he agreed. He now has 700,000 bookings a year.
'I love Butch,' says Chris Blackwell, founder of Island Records. 'He put Jamaica on the map.'
After dinner, Butch says we can fly to Fleming's house in his helicopter.
'Tomorrow, we're taking the chopper to Goldeneye,' says The Oldie's editor, who is one of our group, before reflecting, 'That must be one of the most spoiled sentences I've uttered.'
To get in the mood, we indulge in a little Bondiana. We go snorkelling Fleming's great passion – and discover that Jamaica is as beautiful below the sea as above. Emulating Auric Goldfinger, we play a round of golf at the White Witch Golf Course, named for the English woman who, according to legend, mesmerised and then murdered four husbands. I last swung a club aged 10 with my grandmother. My first ball skids into the rough, then reappears as if by voodoo on the fairway, dropped there by my caddie, Fitzroy.
'Isn't that cheating?' I whisper.
'Not when you're with me.'
We visit an old sugar plantation, Good Hope, built in 1755, with the labour of 3,000 African slaves. Standing on a floor made from the now extinct orange-wood tree, the general manager James Robertson is eloquent on the awfulness of the scale of slavery, and on sugar's explosive effect on the world: 'All those gorgeous Georgian houses in England were built on sugar. Three hundred acres of cane could make you a serious amount of money – I mean serious.'
Among those coming to seek their fortune was my serially bigamous ancestor Harry Mais.
The most famous Mais in Jamaica was the nationalist writer and poet Roger Mais (1905-55). My grandfather, eager to meet Roger when he came to London in 1952, invited him to lunch at the Cumberland Hotel.
My aunt recalls it vividly: 'My father was expecting a white man called Mais and, when he walked in, we completely ignored him.'
At lunch, they got on well, although S P B recorded in an unpublished memoir, 'He was most indignant when I suggested we might be cousins: "Look at my face – there is nothing of the Mais in me. I am pure African negro." He preferred to think that he was descended from one of the Mais slaves who had adopted the name of her owner.'
S P B was full of their encounter when, shortly afterwards, he ran into his former pupil the writer Alec Waugh (Evelyn's older brother), then at his 'all-time low'.
Waugh's son Peter told me the background. 'In January 1953, Alec had the pills lined up. He was looking at the packet and thinking, "Do I do it now?" ' But just when Waugh saw no option other than to swallow a mouthful of barbiturates, S P B saved him, apparently, with his spirited account of Roger Mais, and of S P B's ancestor Harry, who had eloped to Jamaica and raised a black family in the hills above Kingston.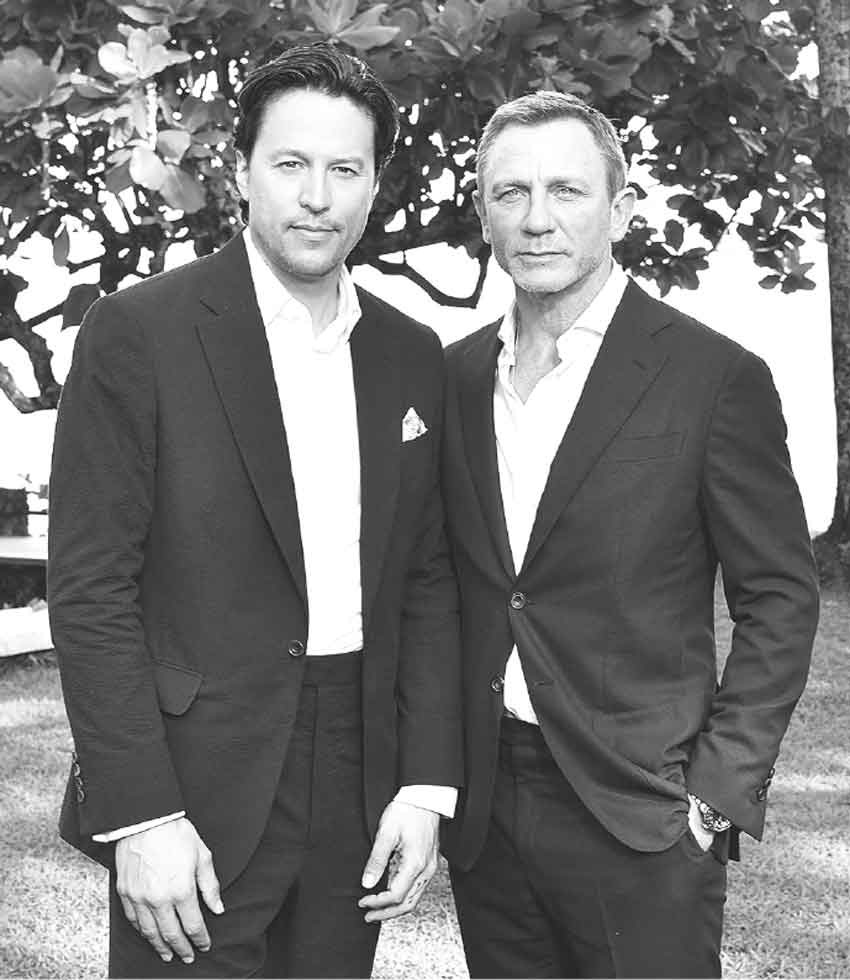 The vivid image of Harry Mais spawned the Fleury family in the novel Island in the Sun (1955), for which Waugh received what was then one of the largest movie advances ever. A film was made starring Harry Belafonte and Joan Collins. The title song topped the charts, and gave birth to the reggae label Island, started by Chris Blackwell, who is now, yes, the owner of Goldeneye.
Butch's Bell 407 whirrs us along the north coast. The 'rash of millionaire hotels' that Bond noticed from the air has increased exponentially. Below, a Qatari-funded 8,000-room hotel is under construction. We fly over Laughing Waters Beach, where Ursula Andress met Sean Connery in Dr No – and then past Ian Fleming Airport, which plans to extend its runway to accommodate flights from the US, and land on James Bond beach, now part of the Goldeneye complex of 60 chalets.
The centrepiece is the three-roomed house Fleming built in 1946. 'You wouldn't have wanted to stay there,' says Chris Blackwell, who has since respectfully modernised it, adding a window to the kitchen and raising the ceiling, but leaving Fleming's desk and chair in place. The Bond phenomenon means he can charge $10,000 a night.
Blackwell was witness to the moment in January 1962 when, he believes, Bond became that phenomenon. Thanks to Fleming, Blackwell – whose mother, Blanche, was Fleming's last lover – had got a job as location manager on Dr No, filmed nearby. 'You could tell there was no expectation; it was going to be a low-budget flop. It all changed when we watched the rushes of Ursula Andress emerging from the sea. It was electrifying; we suddenly felt, "Gosh, we've got a movie." ' Since then, Bond's box-office receipts have topped $5 billion.
My last stop – the final hole, as it were – is Jamaica Inn, a 20-minute drive along the coast.
The general manager of this luxury hotel, popularised by Winston Churchill and Marilyn Monroe, turned out to be my distant cousin Kyle Mais.
Kyle is indeed a fine physical specimen, a tall, handsome 52-year-old 'mulatto', in his description, who once managed one of Butch's hotels in the Bahamas ('Butch was a mentor to me'), and opened Chris Blackwell's property at Strawberry Hill.
On the terrace, over two piña coladas, he produces our Jamaican family tree. It's the first time I've seen it. In among the scented air, cicadas and the pure azure of the sea, Kyle helps me climb down its branches, via Noël, Geoffrey and Leslie Mais, who farmed on the heights of Chalky Hill above St Ann's Bay. Tipsily, I remember Roger Mais's best-known lines: 'All men come to the hills/Finally.'
There'd been a few lost balls on this journey, and quite a lot of bunkers, yet for me it was as good as winning the Masters.