---
The former Sunday Telegraph editor Sir Peregrine Worsthorne has died at 96. Valerie Grove talked to him for The Oldie for his last interview

'How lucky I am, beyond all measure or desert.' So Peregrine Worsthorne (pictured with his wife, Lucinda Lambton, and his carer, Bruno) ended his memoirs, Tricks of Memory, in 1993. That luck has lasted for a quarter of a century for the former editor of the Sunday Telegraph, a journalist since 1946.
The pink-bow-tied, flamboyantly coiffed polemicist and dandy turned 96 last December. With snow-white whiskers, he is seated by a log fire at the Old Rectory in his elegant dressing-gown. For his daily walk – more of a shuffle – he clamps on a scarlet fedora. Wherever he appears, he is unmistakable, especially in his bright pink Crocs, which add to the gaiety of the nation. Let us reprise the earlier incarnation of Mr Peregrine Worsthorne, as seen in that autobiography. He had, in 1989, relished writing an arrogant leader in the Sunday Telegraph, 'Editors as Playboys', denouncing his rival Sunday paper editors, Andrew Neil and Donald Trelford, for their respective dalliances with Miss Pamella Bordes.
So unbecoming, he huffed, so vulgar, so unworthy of their office. Editors should be dining on Oxbridge high tables (as he, who went to both Ox and Bridge, did). Neil sued for libel. Worsthorne, after nine hours' cross-examination in the High Court, wrote of the crushing experience of being in the dock, feeling like a helpless schoolboy, hearing himself described as 'a hypocrite and a humbug, pompous, sanctimonious and malicious'. ('Being a defendant in a libel action knocks the smile, and still more the sneer, off a journalist's face'.)
Neil won the libel case, receiving damages of £1,000.
This 'verbal mugging' was followed by being sacked over a poached eggs breakfast at Claridge's, which left him 'sick with indignation and shame'; and then, worst of all, came the death of his wife, Claudie. Even his long-term mistress, the actress Moyra Fraser, decided she must stay with her husband rather than marry him. This was his annus horribilis: a lonely future lay ahead.
But, at Christmas 1990, came an astonishing reversal of fortunes. He was knighted in the New Year Honours (he'd suspected a hoax, probably by Auberon Waugh, when the letter came). And, on 17th December, he met Lucinda Lambton at a party and was captivated, as was she by him: a 'miracle' coup de foudre. Lucy – who had always resisted being 'Lady Lucinda Lambton' as an earl's daughter, or 'Lady Lucy Lucy', as the wife of Sir Edmund Lucy, Bt, in a previous marriage – was dismayed to find she might be called Lady Worsthorne. But she never has been. They are Perry and Lucy, an unusually entertaining couple who wear their hearts on their sleeves. When he proposed, she sprinted across the room and leaped onto his knees – 'And,' she says, 'since I weigh thirteen stone, they probably cracked.'
Their sole disagreement centred on their diametrically opposed views of the aristocracy – her passionate dismissal of it; his reverence for it. (Perry's grand connections are legion: 'Winston's younger brother, Jack, married my grandmother's sister, Lady Goonie.')
'Civilised' was a word he dwelt on in his pontificating days – taking the moral high ground, despite his own wild and rackety past – and civilised his life remains.
In childhood, he had his own butler. His 'distant' mother, Priscilla (who wrote in her own memoirs, 'Perry was always a little troublesome, even at the breast'), parted from his father, Alexander Koch de Gooreynd, and remarried, leaving him and his brother in the care of James the butler.
James had been gassed in the First World War, 'which made him very glamorous, to my mind': he was a surrogate father, and Perry's hero. Today, Perry has Bruno, his live-in carer, a handsome and personable young man from Croatia, who wheels his chair and proves an adornment at occasions such as the Oldie Christmas party and this year's Oldie of the Year awards. Bruno's parents are also carers. His father is a brave survivor of communist regimes, who immediately polished Perry's shoes and laid them out in a row when he helped out at the rectory one day.
Lucy's Gothic-windowed house, with '1846' incorporated into its brickwork, and jokey animal topiary in the garden – where, on their wedding day, the music was played by a Cajun band from New Orleans – is suspended in time. Even the wallpaper, by Pugin, exactly matches the date of the house. No jarring note from the modern world is visible, though the M40 is two minutes away.
Did Perry fall in love with Lucy's house, along with Lucy? 'I liked the house. I was impressed by the creative act, by Lucy's creation. We walked in the moonlight on the first night I arrived here; we walked in the woods ... It was a summer's night.' No, I said, like Hermione Gingold to Maurice Chevalier, it was deepest winter. 'Ah yes.'
I remember it well, because Lucy was invited to a New Year's Day lunch chez nous that year, and our mutual friend Glynn Boyd Harte arrived and announced dramatically, 'You won't see Lucy today. She is staying in bed with Sir Peregrine Worsthorne!'
Her friends were all quite shocked.
'Were they? Why?' asks Perry.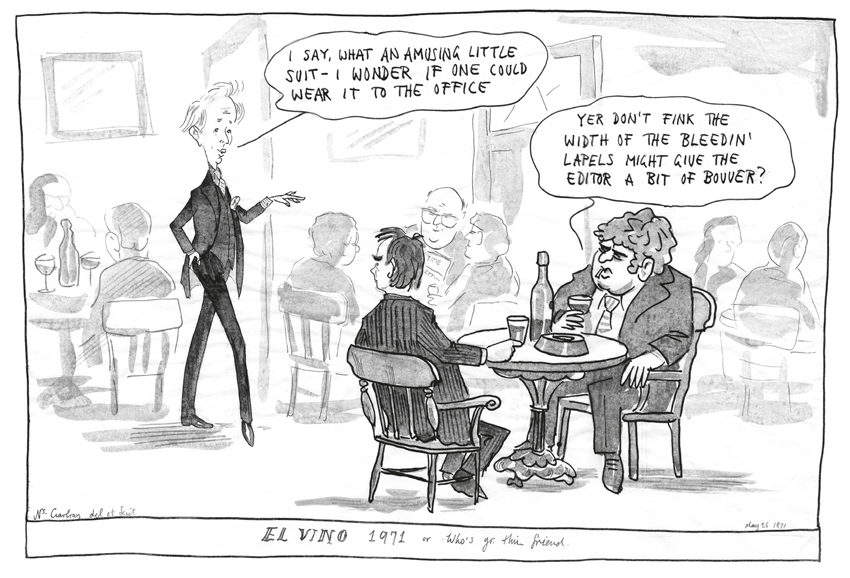 But The Old Rectory, preserved in its Victorian aspic, cannot be an easy house for a chap of 95 with a stick, however nimble-footed. There are hazards every-where. Beautiful but aged rugs, waiting to be tripped over. Lamps dim as gaslight. A treacherous wooden staircase (with, mercifully, a new stairlift). Precarious logs falling onto the hearth; festoons of ancient brocade. Every table, chimneypiece and shelf bears fragile porcelain heirlooms and curios. Rastus, the blind old dog – a pedigree Petit Basset Griffon Vendéen, sadly now deceased – snuffling about.
'Comfort doesn't come into it,' Perry replied. 'It's a different kind of comfort. A feeling of pride – that anyone who comes to this house loves it.' Of course we do. It is the reverse of fashionable or minimalist.
Perry seems to have known most of the presidents of the last century. As a child, he skidded into Woodrow Wilson at the home of his stepfather, Sir Montagu Norman, governor of the Bank of England. He was on the campaign train with Eisenhower, who was intrigued by the name 'Peregrine'. He waxed ecstatic about Kennedy's press conference after the 1961 Cuban missile crisis. He interviewed LBJ, who confided that Lady Bird was 'the best little lay in town'. He interviewed and befriended Nixon: 'Kingsley Amis, Bob Conquest and I were among the few who backed the American side in Vietnam,' he says.
But today he is so distanced from his former life ('Who edits the Telegraph now? Who owns it, do you know?') that he no longer even takes the paper. He is a Times reader and is sometimes to be found on the Letters page, reminding bankers, for instance, to behave like gentlemen.
He takes the New Statesman and Spectator and devours books. Last time I was there, he was reading Closet Queens by Michael Bloch. This time, it was The Gustav Sonata by Rose Tremain.
He is intrigued that two stories still cling to him. The first is that he was the second person, after Kenneth Tynan, to use the F-word on television. It was 1972 and oddly, it was about Lord Lambton, Lucy's father ('not a nice man'). Perry was asked what people would make of Lambton being photographed in bed with two prostitutes, smoking cannabis, and replied that they wouldn't 'give a fuck'.
Grave error. 'Lady Pamela Berry [the Telegraph proprietor's wife] never forgave me. She said I did the Telegraph a great deal of harm.'
His obituaries will lead on this, he says, along with George Melly's claim that he seduced Perry at Stowe. 'Why are people so fascinated by it? Anyone who knew anything about public schools would know this kind of thing was going on every day. It was not a rare event.'
Since lavatories have loomed so large in Lucinda Lambton's career as an architectural historian (leading the revival of the claw-foot bath and the scallop-shell basin), the Old Rectory's downstairs loo deserves a mention. It's a period piece, with original broad wooden seat and a 'Crapper' cistern.
In this room are stored two dozen immense scrapbooks of their many adventures (at the age of 85, Perry drove a Bentley convertible to the South of France), featuring Lucy's superb photographs and her enthusiastic captions in a barely legible scrawl.
'Every inch of every building is a beautiful inch,' she writes, I think, of Barcelona, and 'no hallway is free from these astounding beauties'. Eight years ago, Lucy and her sisters became preoccupied by a legal case over their brother Ned's inheriting their father's multi-million pound estate, leaving the sisters with nothing. After litigation, the sisters received a million pounds each.
She also has this wonderful rectory, for which she 'sacrificed everything' – bidding for it at auction successfully because 'the swanks' scorned its Slough postcode. Perry sits at the head of the dining table. Lucy, 'a mistress of every domestic art', cooks and serves lunch of spicy chicken, broccoli and red peppers and a cheese called Sussex Charmer, which 'adds pedigree to the noblest of cheeseboards', Perry reads from its label, with satisfaction.
His luck, clearly, still holds.