---
Tom Jones once said, 'Elvis loved being Elvis.' Well, Harold really liked being Harold. And, just like Elvis after his 1968 Comeback Special, Harold liked dressing with style.
I remember him in 1988, when I was playing Aston in The Caretaker. Suited and booted in black, he wore a purple shirt and smoked a purple Sobranie cigarette with a glinting golden tip.
There was something of the Saturday night out about Harold. He wore glasses, but Buddy Holly he wasn't. His spectacle frames matched his general look: direct, powerful and sharp.
Some people say that Pinter never wanted to discuss his work. I don't agree.
Every writer I've worked alongside has loved to discuss their work. This was particularly true of Pinter, and it wasn't some late-life mellowing caused by infirmity. Harold gave me some of the best notes I've ever received. And he didn't mind being asked questions about his plays either. Take my role as Aston – in The Caretaker, Aston brings home Davies, a tramp, who, with the help of his protective brother, Mick, is put back on the streets by the end of the play.
Aston's room is full of random objects, so I asked Harold, 'Does the withdrawn Aston prefer the company of his things to people?'
Harold said, 'When the play begins, Aston hasn't talked to anyone for ten years. When the play ends, he's not going to talk to anyone for another 20. The thing about Aston is he's a gent.'
When you're given that information about a character you're searching to find, you're running with the ball between the posts, with no opposition in sight.
Harold's writer's mind had been created in childhood. I was an only child until the age of ten and spent many days alone, creating imaginary friends. Harold was an only child all his life and, in his solitude, he created these characters he loved. He protected every one of them and wanted them to be given their due.
There's a famous picture of Dickens dreaming, by Robert William Buss, where he sits, quill pen in hand, surrounded by the hundreds of characters he's created. You could do the same with Pinter.
He was more flexible than people think, too. When I was playing Aston, I changed him in the last four performances (of 70) to give him a feeling of deeper pain and hurt.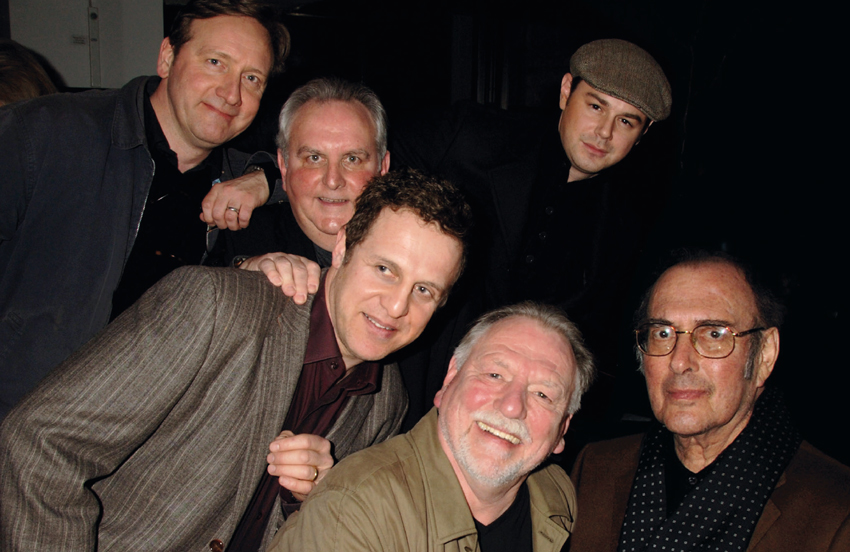 On the last night, I said to Harold in despair, 'That's what I should have been doing all along.'
'No,' he said, 'what you did at the beginning was right and what you did tonight was right.'
Harold could be direct, it's true. When I wanted to play Aston again, years later, with Donald Pleasence as Davies, Harold phoned me up. 'I've looked up your original notes and you're now too old for the part,' he said.
Rejection is much easier when contact is made. It helped that I had known Harold for a long time by then. I first met him at a party with Joe Orton in 1966, when we were introduced by the producer Peter Willes. Harold and Joe were grateful to Willes; he had put their plays on television, got them some money and enhanced their reparations.
At the party, there were butlers with silver trays serving kedgeree. I'd never seen anything like it. Still, I could talk to Harold because we'd both played Seeley in A Night Out, the 1960 play he'd written for television. It was watched by 16 million viewers. As Harold said to me about those viewing figures, 'It doesn't bear thinking about.'
I'd played Seeley on stage and was as chilled by Harold's lines as I had been by Webster and Shakespeare.
In 1987, again on TV, I worked with one of my heroes, Colin Blakely, in The Birthday Party, written in 1957. He played McCann, Harold played Goldberg, and I was Stanley.
With Harold in the cast, you didn't have to do a run-through for him. But, again, he was full of good advice.
'Stanley must resist,' he told me. 'If Stanley is weak, there is no play.'
'Still,' I said, 'I don't have a strong idea of who he is. I can't find Stanley at all.'
Harold thought for a moment and said, 'All the Stanleys say that.'
I had a vision of a line of Stanleys stretching into the distance, all of them lost and confused, like Easter Island statues.
Harold had grown a moustache to play Goldberg and was going down to Brighton, straight from the studio, to see his dad and show off his first 'tache. He was close to his parents and had bought them the place in Brighton.
In 2008, the last year of Harold's life (he died on Christmas Eve), I was filming in Berlin. I learnt that Harold's only choice for Max in the Almeida production of The Homecoming was me.
When I said I'd do it, Harold phoned me when I was in a car somewhere near the Polish border.
'I just wanted to say I'm dead chuffed you're playing Max,' he said.
I told him I was chuffed to be playing Max. The line wasn't clear, and I asked him if he had a mobile number.
'I don't have a mobile.'
'You sweet, old-fashioned thing, you,' I said.
'You've got it in one!' said Harold.
I needed to start learning my lines quickly. So I went to the Tiergarten, the park in the centre of Berlin, and learnt Max line by line, sitting on a flat boulder in the rock garden there. The way the fat had been stripped away from the dialogue meant the words were left compressed and intensified – like the compressed layers I could see in the stone I was sitting on.
In 1965, when The Homecoming was first put on (at the Aldwych Theatre), Paul Rogers was headhunted from the Bristol Old Vic Company to play Max.
Harold saw a rehearsal where Paul played the scene about the affectionate father sentimentally, as I would have done. Harold told Paul he'd got it wrong. Rogers was so offended that he grabbed Harold by the throat.
Harold told me, 'Paul was rather more rumbustious then.' Harold relished the word rumbustious.
He loved certain words and didn't want anyone else fiddling with his words. On our first discussion about The Homecoming, I told him, 'I really like the rhythm of "You can f*** off out of it" rather than "You can f*** off". Can I say that?'
Harold said, 'No, you f***ing can't.'
When we were rehearsing in 2008, I reminded Harold of his note, given 20 years before – 'The thing about Aston is he's a gent' – and how it had given me such a clear start.
'Could you sum up Max?' I asked him.
He thought for a moment. Finally, he said, 'The thing about Max is… he's a gent.'
Harold's eyes smiled at my confusion, and he then said, 'No, the thing about Max is, he's a butcher and a liar; he hated his father.'
After we'd finished The Homecoming, everyone in the cast signed a card for Harold. We all competed desperately to write more impressive lines than each other.
Danny Dyer, the EastEnders star, wrote, 'Harold, you're the bollocks!'
That was the line that Harold liked the most.
Pinter at the Pinter, a season of his one-act plays, is at the Harold Pinter Theatre, London, until 23rd February
Hear Kenneth Cranham's podcast here.