---
As the floodwaters subside in Venice, Olinda Adeane suggests a visit to the city is best in the depths of winter
My family have owned a flat in Venice for 13 years and yet guests still arrive bearing a small, brown parcel and the secret, confident smile of someone who has found the perfect guest present. It always turns out to be Venice for Pleasure by J G Links. We now have ten copies.

Bernard Levin described VFP as 'the best guidebook to any city ever written'. More than 50 years on, it's still a rattling good read: a walking manual, detailing four itineraries that feel like a mini-Grand Tour. For The Oldie, I've devised a fifth one, involving vaporetto trips as well as walking.
Joseph Gluckstein Links was born in 1904. His father, a Hungarian refugee, founded a family fur business, Calman Links. While his father mostly traded in skunk skins, Links took it upmarket with an elegant Knightsbridge showroom and a royal warrant as 'Furrier to the Queen'.
He was a self-educated polymath: director of the Hudson's Bay Trading Company, thriller writer, wine expert and, after a 1945 honeymoon in Venice with Mary Lutyens (daughter of architect Sir Edwin Lutyens), a lifelong aficionado of the city. He left school at 14 yet became the foremost authority on Canaletto. Joe's friends, planning trips to Venice, badgered him for advice, which he gladly gave in witty, informative letters. Max Reinhardt, of Bodley Head, suggested this advice should become a book. In 1966, when it was published, Links helped establish Venice in Peril. He remained involved with it until his death in 1997.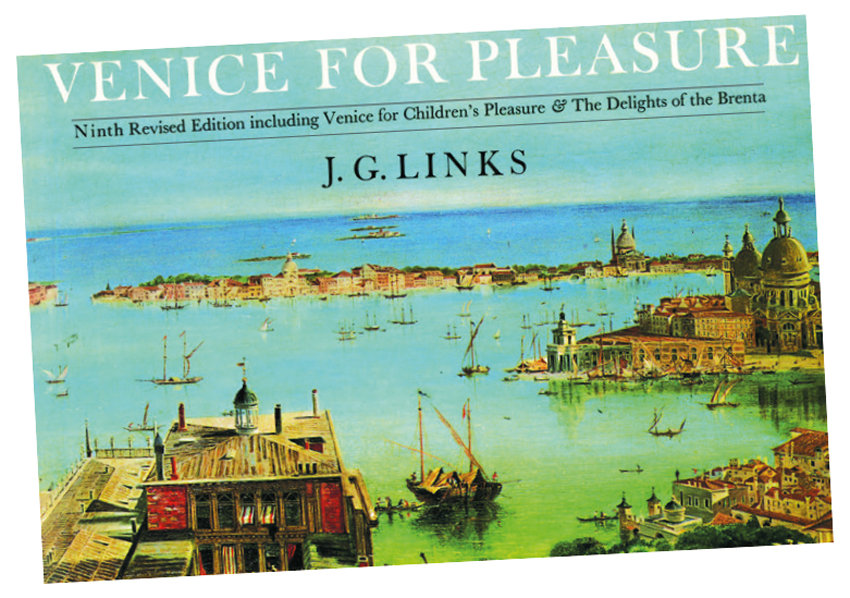 'Best ever guidebook' – Bernard Levin
In my more modest capacity as a Venice resident, I am also asked by friends, 'When is the best time of year to come?'; followed by 'Where can we walk to avoid the crowds?' Thirty million tourists came in 2017. And then there's the water – Venice has had its worst flood in a decade. These are serious problems which aren't receiving the world's proper attention. But the considerate 'perennial tourist' (as Links described himself) should not be deterred.
Winter is best. There is a sense of relief in the air, as if the last house guests have finally left. Christmas gives Venetians a chance to catch their breath and relax before New Year's Eve. December and January can be stony cold, but worth the price of thermal underwear to enjoy empty churches and merry, crowded restaurants.
This Christmas, there's a fair in Campo Santo Stefano, an ice rink in Campo San Polo and a choral concert at Scuola Grande San Giovanni Evangelista. At New Year, Teatro La Fenice has a concert and there is a free firework display on the lagoon. Even the smartest Venetians dance about to the bands in St Mark's Square.
Links, like John Ruskin before him, had little interest in the inhabitants. But I am gregarious. My favourite walk takes us from my own vibrant Giudecca island, to Castello, once the religious and maritime heart of the Republic, east of San Marco and Canareggio.
Let's start at Hotel Calcina on the Zattere, the sunniest spot in town, and home to Ruskin. From this terrace I can see my own home, straight opposite, across the vast Giudecca Canal. Links dismissed Giudecca as 'a rather ordinary island of little interest'. It was quite a dodgy, rundown area then. Now the derelict mills and breweries have morphed into student accommodation, artists' studios and ateliers. People like being at one remove from the fray.
We catch vaporetto number two (from Zattere towards San Marco) and cross the Giudecca Canal but do not disembark. We scan the waterfront as the life of the Giudecchini unfolds before our eyes, like a marvellous Egyptian frieze. Here is the butcher, here is the baker and there is Maria in her salumeria. And here comes a Redentore monk, running, tassels flying, to catch our waterbus.
As the vaporetto moves on, we see the Redentore Church, Palladio's masterpiece, built as a thanksgiving for deliverance from the 1575-7 plague, which left 46,000 dead, including Titian. Then comes La Casa dei Tre Oci, a neo-Gothic palazzo, designed in 1910 by Bolognese artist Mario de Maria. Its distinctive windows represent the artist, his wife and son; a tiny upper window remembers his daughter, Sylvia, who died in childhood.
We pass Le Zitelle – an early Palladio church whose adjoining nunnery has become the Bauer Palladio Hotel and Spa, with a charming 'secret' garden. Then there's Cip's Club – where Vice-Questore Patta, Guido Brunetti's boss, takes long lunches in the Donna Leon books. Finally, there's Guardia di Finanza, whose speedboats lie low in the water, poised to catch smugglers.
We're now at the Isola San Giorgio Maggiore – the best one-stop destination for a single afternoon in Venice. Here are exhibitions at the Cini Foundation, the Stanze del Vetro, a modern glass museum, and Lo Squero, a new concert hall with a superb view of the North Lagoon. From the top of the campanile of San Giorgio Maggiore, we see the most slender spire in Venice, San Francesco della Vigna, against the snow-topped Dolomites.
Let's get back on number two vaporetto for one stop, disembarking at San Zaccaria. On Riva degli Schiavoni, take your cue from the thrusting statue of Vittorio Emanuele II astride his charger. 'Avanti!' we say, as we cut through the crowds and slip down the narrow Calle Sottoportego San Zaccaria.
Crucifixion above the sacristy door; and a great Bellini, Madonna Enthroned with Child and Saints.
Now for a drink and tramezzini. We head to Campo Santa Maria Formosa and the Bar Gelateria Zanzibar, a pretty pavilion once used as a repository for plague victims. The café faces Santa Maria Formosa's campanile, with a grimacing mascaron at its foot to deter the devil from ringing the bells. The church is so named because Mary allegedly appeared before its founder St Magnus in the 7th century, in the guise of a formosa (buxom) woman.
Another shapely woman sells papers here. She has long, black hair and flashing eyes that Byron would have liked. In summer, she sticks handwritten cards on her kiosk to stop rude tourists from asking questions: 'Don't ask me'; 'You are not the only one'; 'I am not your guide'.
Next, the San Francesco della Vigna church – on the spot where St Mark was greeted by an angel with the words, 'Pax tibi, Marce, evangelista meus', which became Venice's motto. 'Peace be upon you, Mark, my evangelist.'
Fra Rino, librarian of the church's little-known library, shows us beautiful illuminated manuscripts and early printed books; some of them so secret we're not allowed to talk about them. It's all very Name Of the Rose.
And, finally, the painting we have come to see. We slip in the church back door and put a 50 cent coin in the illumination box. There she is: Madonna and Child by Antonio da Negroponte (c 1455). They stand in a garden of flowers, tiny insects, birds and animals. Truly all things bright and beautiful incarnate. It's the best least-known painting there is; the one authenticated painting by the artist. It's rumoured Negroponte owed money to the great Jacopo Bellini.
I do love Venice – the only place in the world with rumours that are 500 years old.
Pensione Accademia – doubles from £66 (www.pensioneaccademia.it). BA, return Gatwick-Venice, from £62