---
This September, it will be 30 years since my father, the beloved comic actor Roy Kinnear, died while filming in Spain. For many people, that it was so long ago comes as a shock. I can't say it does for me. I was ten when Dad died and, as I have just turned 40, three-quarters of a life feels like a very long time indeed.
The memories I have of him as a father, which are many, loving and now entrenched, feel somewhat sun-bleached, somewhat the possessions of another young boy, only distantly connected to me. And yet the knowledge of how it formed who I am, the certainty that all of my life has been shaped by that slightly dimmed, unseen-by-me accident on a bridge in Toledo has never wavered.
When I was 11, I remember saying to myself that I wasn't going to let the death of my hero destroy me. I knew that he loved me too much to be forever sad. And, while I'm aware that it was the founding stone upon which my perspective on life was forged, I like to think I have let it inspire rather than diminish me.
None of which, I know, is very different to a lot of people who lose a parent when young. Their absence becomes a guiding presence through the rest of one's life.
I was lucky. I had a strong mother, a loving home, siblings to share it with, a supportive school and a close group of friends. Running in parallel, however, with this fairly normal response of a child to losing a parent was the fact that my dad didn't just belong to me and my family. He was loved by a country.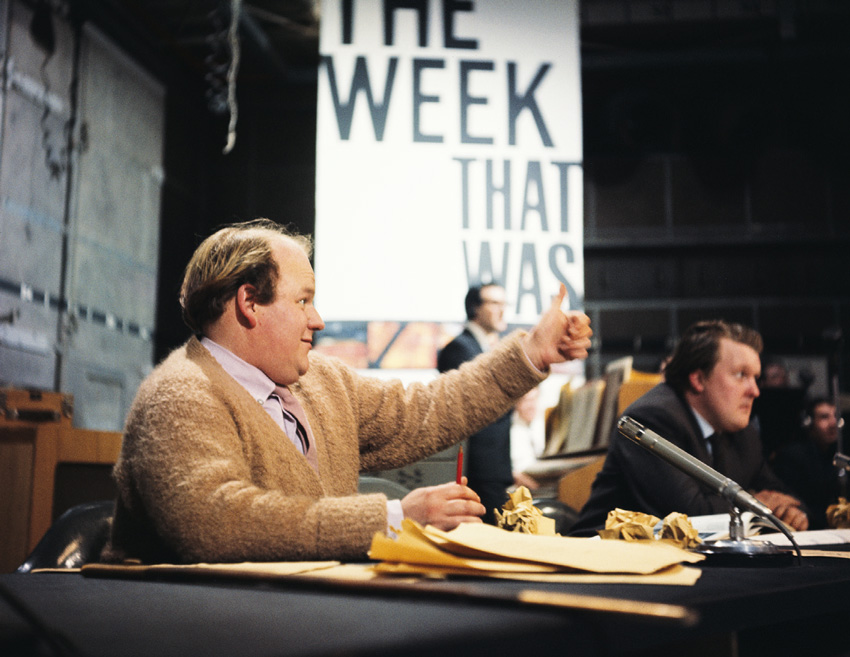 A lady I met recently told me that, growing up, the only thing that brought her fractious family to any sort of harmony was the sight of Dad on television. Here was something, amid the bickering, that they could all agree on: they all liked Roy Kinnear.
Countless others I've met have expressed a similar sentiment. What was it about him? He was funny, certainly – but there have been lots of funny people who don't elicit such warmth. He was incredibly kind, humble and generous: but that doesn't mean someone is talented. Was it his unprepossessing form? That short, stout, little barrel of a man, with the warm eyes and kinetic smile, who looked like a cuddle in human form? Well, it was all of these, I guess. Plus something else, something he wore with very little fanfare, and with such ease that you barely noticed it. Dad was a brilliant actor.
Born in Wigan in 1934 to Annie and Roy Snr, Dad had moved back to Edinburgh, his parents' home city, with his mother and sister, Marjory, in 1942 following his father's death. Roy Muir Kinnear, my grandfather, had played rugby union for Scotland and the British Lions, and rugby league for Great Britain and Wigan, scoring for a victorious Wigan in the first Challenge Cup Final to be played at Wembley.
Following his father's sudden death, from an embolism in his neck while playing for the RAF, the eight-year-old Roy was forced to confront the fragility of life – as many young boys during those war years were having to do – and to forge the resilience required to carry on.
I suppose I took great heart, after Dad's death, in knowing that he himself had been through the same thing.
Further resilience grew from the need to make friends and get along when you're a short, fat chap with asthma at a very sporty, all-boys school – George Heriot's, in Edinburgh. Being funny and self-deprecating, he quickly learned, seemed to deflect any potential brickbats from the bullies. He was also soon to shine in his school's drama department.
From starring in school plays, he applied to and was accepted by Rada in 1951. Contemporaries there included Albert Finney, Peter O'Toole, Frank Finlay, Alan Bates, Peter Bowles and Richard Briers. It wasn't a bad year. And with such a golden period for young men and women, forged but not broken by the war, all – presumably – trying to outdo each other, it led to a characteristic fearlessness in all their performances which served Dad, and his audiences, so joyfully well. They were the generation that emerged as the post-war class, and regional boundaries that had held actors like them back for decades were beginning to crumble.
At Rada Dad had been told to lose his accent. The success in films of actors such as Finney, and the new era in the theatre ushered in by John Osborne and his contemporaries, meant he was in the last generation to be told to do so. Dad and his peers took quick advantage of the increased prominence in the arts of the 'working man'. And they ran with it. He was spectacularly successful very early on in his career. Having done some repertory work in Scotland and England, and a year spent playing the popular geriatric children's character Mr Fixit in Scotland for STV, he was soon brought into the company of actors that Joan Littlewood was enlisting and galvanising at Stratford East.
Littlewood was a phenomenon, passionate about breaking down barriers and smashing the distinctions between the classical and the popular, and she left an enduring mark on the young actors she worked with. Demanding of them to do it differently every night, to keep it both alive yet truthful, to be the antithesis of the deathly, reverential theatre that she saw as boring the life out of this most electric of art forms, Joan called regularly on Dad's innate ease and inventiveness with improvisation.
In productions as varied as Make Me an Offer, Every Man in His Humour and Sparrows Can't Sing, he showed not only a highly skilled technical ability and physical nimbleness but a freedom and warmth that connected incredibly strongly with an audience. It was said that it almost appeared he was making it up as he went along.
That fearlessness and inviolable instinct was called upon again in the furnace of live television. The groundbreaking satirical revue programme That Was The Week That Was took the nation by scandalised storm for two series from 1962, making household names out of its stars. Scripts were rarely finished until just before transmission – and sometimes not even then. Every Saturday night, people would race home from the pub to be outraged all over again by what these young punks were saying about British society. Scandal regularly followed transmission, and questions were asked in the House of Commons about what could be done about these undeferential upstarts.
This led Dad's slightly timorous agent at the time to promise him he'd get him out of his contract as soon as possible, to avoid any damage to his career. Dad, quite wisely, didn't think it was doing it any harm.
Not yet 30 then, Dad was famous. Film directors came calling. Given the leading men he had acted alongside at Rada, and having begun to lose his hair at 17, it was no surprise to discover what kind of parts he was being asked to play.
Whenever a journalist asked how he was going to play a particular role, he would quickly say, 'The usual: short, fat and balding.'
But you don't get to work with the quality of director that he did (from Sidney Lumet to Wim Wenders, Roman Polanski to Ken Russell – often multiple times) just by being a funny shape.
More often than not, it was his ability to imbue characters with a pathos, a likeability, to make an audience root and care for the underdog, that saw directors call on his talents. Such was his inventiveness and his comic brio, though, they often got much more. Littlewood said of him, 'His success was down to his talent, not his shape.'
Directors always knew that whatever was on the page, Dad would make it funnier. It might have just been a look, a trip, a bit of business or even a double take – what dad referred to as his 'Adja-ay'; directors knew that he could gild the most leaden of scenes. And he, in turn, knew that that was what they often employed him for.

One film my generation knows him best for, that our children continue to watch, is 1971's Willy Wonka & the Chocolate Factory. It is a supreme example of Dad bringing the most effervescent life to a supporting role, and giving a director so much more than they expected.
He worked constantly: in theatre, from the National and the RSC to pantomime; television, from Plays for Today and much-loved sitcoms to adverts and game shows; and films, from The Hill (1965) and Juggernaut (1974) to The Boys in Blue (1982) with Cannon and Ball.
He was prolific and he was utterly democratic. There was no pretension and no snobbishness. A job was a job, and entertainment was entertainment, be it high art – or Cannon and Ball.
I think there were about three days when Dad was out of work. By chance, on the first of these, a door-to-door salesman, a frequent caller to our house, came round selling feather dusters.
'Up to anything, Roy?' he asked.
'Bit quiet as it happens,' said Dad.
Two days later, the salesman was back, detailing a very attractive business plan, going 60-40 on any sales in perpetuity.
And I'm so grateful that he did work so much, for all his vast body of work and its extraordinary range. Through all of those films and television roles, from short films people have sent me to YouTube clips of Blankety Blank and The Cliff Richard Show, I have been able to see my father grow from a young man to a 54-year-old. And I have worked with countless people who all have a story about him that they're desperate to fondly recall.
Through those stories, and through those roles, I have been given the most priceless and active legacy a child could hope for. Thirty years after his death, my father can still make me – and his grandchildren – laugh at something for the first time.