---
Is there anything you can't leave home without?
Definitely – my glasses.
Do you travel light?
No. I don't travel much now, but when I did, I took stuff for any eventuality – the 'just in case' case.
Favourite destination?
West Sussex because the sun doesn't do me much good – I come out in bumps or rashes. When Tim, my husband, and I used to go abroad, it must have driven him barmy, because I'm there with an umbrella, a chair and a windbreaker, practically the white gloves and paper over the nose. He ignored the sun and did a lot of gardening without his shirt on, and cancer got him in the end; and I'm sure that was one of the reasons.
Earliest childhood holiday memories?
A pebble beach at Felpham in Sussex and not liking it at all. I quite liked the water but walking on pebbles was not me at all. As a child, and even during the war, we went a lot to a place called Summerley Barn and they made blackcurrant ice cream and it was wonderful.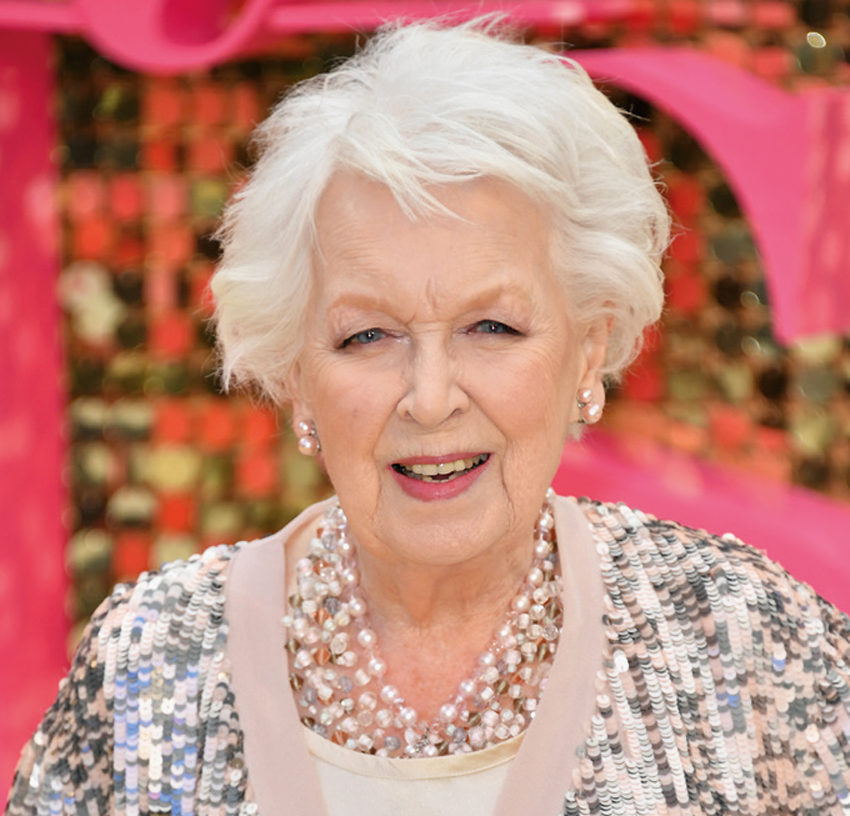 Are you a traveller?
No – I'd rather watch travel on the telly, and you can stay inside the nest.
Memories of theatrical touring?
I went to Rada from 1942 till 1944, then toured with 'Cure for Love' with Wilfred Pickles. We got around in draughty trains on a Sunday. The heating was under your feet; so you could have burning hot ankles and the rest of you was cold. And no food – you took your own sandwich. Sometimes we stayed in very funny boarding houses. An actress friend, Jenny Lovell, and I were up in the North somewhere and we had a very nice room with a real fire and a couple of beds. The first night we were there, we were itching a bit, so we got out of bed and there were bugs in it. We sat up all night and we said to the landlady, 'I'm very sorry but you've got bugs in your bed.' She said, 'If there are bugs in the bed, you must have brought them.'
Did you ever work abroad?
The only time I did was with the film of 'Absolutely Fabulous' – I just did two trips to Nice which was very nice.
Did you learn your lines on the train travelling to shows?
I can't remember learning lines – it was far more about playing poker. In rep, you learn your lines while you're doing the show, which is all right when you're young. I don't have a photographic memory like Julia Sawalha in 'Ab Fab' but, touch wood, I never had trouble learning lines. I've enjoyed every minute of my career, and worked with some great people: Arthur Askey, Dame Irene Vanbrugh, Julian Clary, Noël Coward.
Where did you go on your honeymoon?
Paris. We stayed in a very nice hotel and ate in some very nice restaurants.
Do you like being/working away from home?
I didn't mind being away from home then, but I do now. I like to come back to my lair.
Do you go on holiday?
I have over the past few years because my daughter, Suzy, and her husband, Terry, had a house in Spain. Last year, we went to Venice on the Orient Express.
Do you lie on the beach?
I certainly don't – no, no, no!
Do you have a daily routine even when you're away?
Definitely not – take each day as it comes.
Hotel or apartment?
I like being taken in and done for.
Are you brave with different food abroad?
No. I prefer to eat what I know – I don't wish to try some strange animal.
Favourite international food?
Italian.
Best and worst experiences in restaurants when abroad?
Not always understanding the menu, even if a waiter explains it.
Do you have a go at the local language?
Very few words and many gestures.
Biggest headache?
Inconvenience at an airport – the only way to travel in an airport is in a chair: beep, beep and you're through!
Do you like coming home?
The saying is true – there's no place like home, wherever it might be.
Top travelling tips?
Be prepared.
Is there anything you'd like to play?
I could still manage roles if they were sitting down or in bed. I don't know why but everything seizes up. Mind you, I am 92 – so it's allowable. In my retirement home, there are people of 97 who walk about without a stick – I'm so jealous I could hit 'em!